This week's recap brings tales of turkey, stuffing, squash, mashed potatoes, pumpkin pie and variations on the theme. It's fascinating to me that so many of us celebrated the same holiday with the same meal, but featured such different takes on the themes.
You'll note that our Thanksgiving post this year did not feature our meal, that's because we joined family for dinner and while many of the ingredients were local and fabulous, I utterly forgot to take any pictures. The highlights for me included my mom's famous "Danish" pastry – I'm sure it's not Danish at all, but that's what we call it around here. So good!
The lard that I rendered Tuesday night has been put to quick use in pies, apple tart, beans and more. I already can't believe that I lived this long without it! Home alone this weekend, I ate simply and mostly from the garden – so relaxing.
I can't wait to see what we all come up with next! Check your email tomorrow night for the themes for the rest of the challenge.
*****
The Midwest:

Kim joins us this week with two meals. The first, Red Flannel Hash, is so pretty that I could almost see myself cooking something with beets. Almost. The second, a mostly local Thanksgiving dinner shared with family. The sweet potato dish sounds divine and the sour cream pumpkin pie sounds like a good use for the extra pumpkin puree now hiding in my freezer. Welcome Kim!
Using ingredients that each have their own story, Anne made a dinner of Asian pork chops, kabocha squash and carrots with a soy/ginger/honey glaze and daikon radish pickles. The pickles sound really interesting – I'm always stumped about what to do with daikon radishes, so pretty but so hard to use!
Karen not only made fries with sweet potatoes she grew herself, she served them with an onion and potato frittata, homemade dill pickles and acorn muffins. To top it all off, dessert was homemade apple pie. Mmmmm.
*****
The South:

Proving that the south is a completely different climate than the PNW, Laurel found tomatoes, basil and zucchini at the farmers market this week. She combined it into a simple ratatouille over spaghetti squash. Wow! Check out her post for the recipe and instructions.
Lacking enough stock to make local sides for the FIVE Thanksgiving dinners she attended, Caitlin instead made a local brunch for her boyfriend. After tenderizing the crap out of a round cut of beef, she grilled it and served it topped with a fried egg and a side of simple vinegar coleslaw (recipe included).
Jennifer offers up a recipe for two bean pumpkin chili that sounds delicious. If you're wondering what to do with your your leftover pumpkin, this seems like the way to go.
*****
The West:

Choosing to keep her cornbread stuffing in deference to tradition, Kimberly created a local Thanksgiving feast for two. The menu included not only the traditional turkey, potatoes and stuffing, but also roasted kabocha squash and Brussels sprouts. Mmmm, that is a beautiful turkey.
Still pregnant and still cooking, Einat's featured meal this week was a simple dinner of tortellini in a ham, mushroom and onion white sauce. Mmmm, great minds must think alike as this is almost identical to the pasta that I made myself this week.
Maya tried her hand at making sausage this week, not only grinding and stuffing her own pork, but even finding local sausage casings! She served them over braised leeks with sweetmeat sausage mash and sauerkraut on the side and a simple green salad. The sauerkraut was also homemade – I'll have to compare notes with her as mine decidedly did not turn out this year…
Jack hosted his second meal for charity, a five course Thanksgiving meal to benefit Northwest Harvest (go Jack!). Breaking with tradition a bit, the meal featured their favorite dishes from the year and included mostly local ingredients. I absolutely adore this idea and am trying hard to figure out how to do my own version serving less sophisticated fair (if I only I cooked as well as Jack). If you'd like to replicate the idea, he'd love to fill you in on how it works.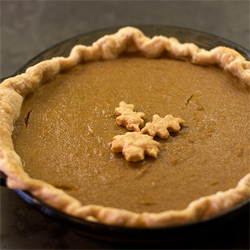 Taking a break from family obligations, Anita and Cameron also enjoyed a Thanksgiving dinner just for two. Simplifying the menu from last year's extraordinary effort, they enjoyed a meal of turkey, potatoes, stuffing, corn and Pinot Noir. Dessert was pumpkin pie (I used her recipe this year – delicious!). This weekend, they also got their new raised garden beds built and are now contemplating what crops to plant first.
Joan roasted a delicata squash with morels and shitakes with a bit of thyme, salt and pepper. Served with sustainably caught Alaskan salmon it sounds like an excellent way to spend a Saturday night!
Turning in an impressive list of local meals, Amy ate well this week! Highlights included Alsatian seared duck breasts with black truffle butter sauce, pumpkin enchiladas, Thanksgiving dinner, carnitas and Shepard's pie. I know whose house I wish I'd been at this week!
Cat's meal this week as a breakfast of fried potato and eggs with toast. Seems she has the same gene mutation as me, the one that makes us incapable of frying potato rounds and requiring that we use cubes. Her version sounds excellent as does her recipe for Early Colonial Bread.
Joining us via email, Melissa sent this update. "For our second week of the Dark Days Challenge we ate a very simple, local meal. The only truly unique thing about it was it all came from Whistling Train Farm in Kent. We had picked up our CSA box on Wednesday and they had carrots, broccoli, potatoes and Italian pork sausage. I steamed the carrots and broccoli together, then the potatoes and just cooked up the sausage. Simple and good."
*****
The East:

Splitting the Thanksgiving meal into two, The Purloined Letter served a lunch of arugula salad and spicy pumpkin soup. For dinner, there was turkey, cornbread casserole, roasted Brussels sprouts, cherry relish and homemade pickles. They topped it all off with sweet potato pie and maple whipped cream.
Spending quality time prepping for her holiday meal, Nicole took time out to share the menu. Turkey with ginger butter; apple cider gravy; pumpkin chestnut stuffing; mashed potatoes with caramelized shallots; sherry vinegar and molasses glazed carrots; cauliflower and prosciutto gratin, cranberry quince sauce; cranberry orange pavlovas and apple cake. Wow – how do I get invited?
Making a last minute family dinner, Mia combined chicken sausage with butternut and carnival squash, salad and wine. Mmmm. Plus, after talking up her CSA to family, they came through with a Thanksgiving dinner that was 90% local!
Sophie's year of locavoring (nice term!) culminated in a local Thanksgiving feast to make my jaw drop! Dishes came from the freezer, jars, vacuum-sealed packages and farmers. The meal was a true celebration of the bounty of the area she lives in. Check out her post for all the details and photos.
With her mamma in town, Mangochild had a very thankful week. Her featured meals this week included a meal of roasted squash with maple syrup and roasted Brussels sprouts and homemade wholemeal corn bread. The second was a simple meal of kale and red onion with flatbread and beans. Both drove home to her that quality ingredients are usually more important than complex recipes.
With a 20 pound turkey and four pies for four people, Kim's family will be eating Thanksgiving leftovers for a while! Also on the table was sausage cranberry and apple stuffing, turnip gratin, butternut squash and honey spiced cranberry sauce. The turkey cutout in the pie makes me smile.
Pam found time in a busy week of projects to make a simple lunch of a cheese sandwich featuring goat cheese, homemade bread, lettuce and homemade mayo with eggs from her chickens.
Her local cornbread pudding went over well with relatives, even without a mention of where the ingredients came from. Then Matriarchy made her own local Thanksgiving feast and served it leftover style. The second holiday dinner even included sweet potato and egg custard pies. Yum!
With a busy week of travel and family, Peg still found time for a local lunch of yam and yogurt. How'd the caulking turn out Peg? And how did you cook that yam?
Jenn's post is currently under construction, but be sure to check back tomorrow night for all the details.
Wanting to expand her featured meals, Zoa made a meal of chicken salad, homemade pita bread and a green salad.
*****
Canada:

After stocking up on homemade stock, Late Bloomer used it to make a chicken stew and ginger squash soup. The stew looks fabulous but he squash soup sounds like something that would make even Mike like squash – I can't wait to give it a try!