The Midwest:
Norah (Aagaard Farms) is glad to have participated (glad to have you!) and feels that she's made at least a few important people more aware of local resources. Last week they enjoyed cottage pie – also known as shepherd's pie – with homegorwn pork, onions and a topping of German butterball potatoes. They also enjoyed a final meal of roasted blue pumpkin, pork chops and baked blue potatoes.
Reaching into her past, El (Fast Grow the Weeds) decided to make tamales using her own corn husks and other ingredients. The menu included tamales made with homegrown/milled corn, chicken with tomatillo salsa or pork with mole sauce, salad and a vanilla souffle. Can't wait to see what she makes next!
My mom (Nordic Walking Queen) scrounged through cupboards, pantry and freezer to find the ingredients for her last meal. Peppercorn fettucini, frozen pesto and tomato sacue, home grown chicken and frozen fruit were found. Combined with local salad fixings and bread, it all became a delicious dinner with friends and family. And now my brother is starting this year's garden in the greenhouse!
Shepherd's pie also made an appearance at Angela's house (Notes from a Country Girl). Hers was made with local scallion greens, garlic, ground beef, redskin potatoes, feta and raclette. Baked until golden and delicious, it was, well, delicious. On the side was a salad with yogurt-feta dressing.
Finally putting the mud oven into full use, Sara (Put Your Shovel…) used it to make simple local pizzas of basil pesto, garlic scape pesto, sundried tomatoes, tomato sauce, peppers, onions, provonella, bacon and parmesan. Once the pizzas were on the table, the oven was the perfect temperature to bake some homemade bread. Mmmm, another project I need to find time for!
Wendy (Midwest Green) is already planning for next year, I can feel it. But her last meal of the challenge was a simple dinner of butterflied pork chops, pickled green beans, salad and wine.
*****
The West: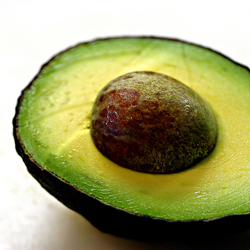 Kristen (Arugulove) decided to go out with a bang for the challenge. She combined early asparagus with chanterelles to make a savory bread pudding. It seems to me like the perfect type of spring dinner – we're days away from having our own fresh asparagus and I think this recipe might make the cut…
Rejoining us for one last meal, Juli (From Dirt to Dinner) made a soup of kale, radish, carrots, celery, Italian parsley, turnips, parsnip, onion and garlic. She added a bit of chicken stork, processed it all and topped it with a touch of parmesan.
Anita (Married …with Dinner) may have spent the winter impatiently awaiting the return of avocado season, but it sounds like it was well worth it. A few avocados, potatoes, mushrooms, onion, homemade tomatillo salsa and fresh tortillas were quickly transformed into tacos that sound good enough to make me consider buying one of those watery traveling 'cados, just to make our own batch.
Kathleen (Our Life in the Country) made her last meal of the challenge and tried fennel for the first time (not fans around here). The fennel was tossed with potatoes, leeks and green garlic and then roasted. On the side was filet mignon from the best named ranch ever, Coffee Pot Ranch.
Sara (Prepping 4 28) is celebrating her last Dark Days dinner in San Diego. She boiled potatoes and eggs, sauteed baby artichokes, bell peppers, green garlic and green onion and roasted asparagus. Finished off with an Aloha Latte cookie it was the perfect spring meal. Yum!